Hello everybody, Joy here. It's my turn to set the challenge this week and I'm feelin' the
need for a change of pace. I have been working with holiday colours for the past while so I dug
into my stash to find some bright summery colours. Your challenge this week is to use....
blue, green, orange and brown on your creations.
Happy crafting!
Now it's my turn. I'm Bronwyn and I am the newest contributor to UYS. Here is my take on this fabulous colour combo: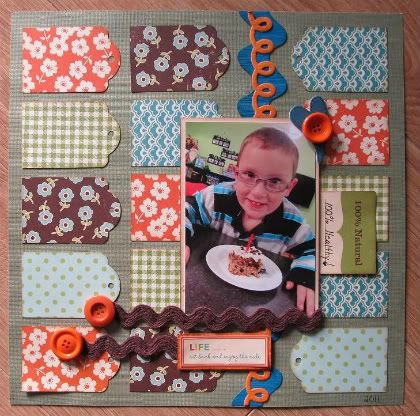 I used a mix of October Afternoon papers and my tag-shaped punch to create a background for a picture from my oldest son's 7th birthday.
Barb
Fabulous layouts ladies.
...and now for mine:
It's funny how I can start with an idea in my head and end up sith something completely different. I suppose that's what creativity is all about. I just used a mix of odds and ends of patterned paper that I had layting around. The embellishments are K & Company. The journaling was done on the old-school dymo labeller. It's strips of white-core card stock that I put through and then sanded.